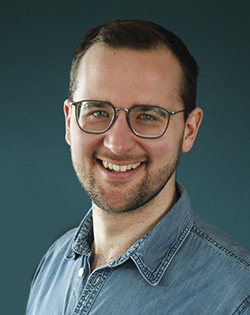 I am a third-year PhD student at the Computer Graphics and Visualization group at the University of Technology Delft. In my research I seek to connect computer graphics- and geometry processing techniques to applications in machine learning and painting analysis. I am advised by Dr. Klaus Hildebrandt and supervised by Prof. Dr. Elmar Eisemann and Prof. Dr. Joris Dik.
I have gathered experience as a graphic designer and filmmaker during my undergraduate years. You can find some examples of that work on this website. Outside of academia, I enjoy making music, reading and discussing books, watching movies, biking, and playing soccer.
Sidebar painting: Ottmar Elliger, 'Stilleven met bloemen en vruchten' (1671), from the Rijksmuseum collection.
Contact
r.t.wiersma [at] tudelft.nl
---
Resume
Download a PDF version of this resume. An overview of my publications can be found here.
Education
[2019 - present] PhD Computer Graphics
TU Delft
Studying applications of Computer Graphics and Machine Learning to painting analysis, generation, and rendering.
Studying fundamentals of geometric deep learning.
Additional responsibilities: lecturing, lab assistance, creating assignments, supervised 10 BSc students (final course), 2 MSc students.
Toolkit: C++, OpenGL, Python, PyTorch, Blender.
---
[2017 - 2019] MSc Computer Science Cum Laude
TU Delft
Focus on data science and computer graphics.
Thesis (grade 9/10) "Harmonic Surface Networks" [PDF download] (Published at SIGGRAPH as a technical paper)
Toolkit: C++, Python, PyTorch.
---
[2014 - 2017] BSc Computer Science Cum Laude
TU Delft
Focus on data science and multimedia.
Thesis "Automating Valuations for Real-Estate" [PDF download]
---
[2013 - 2014] Propedeuse Industrial Design Engineering Cum Laude
TU Delft
---
Work
[2019] Teaching Assistant
TU Delft
Developed assignments for new datamining and Machine Learning courses.
Assistance to students during lab sessions.
Toolkit: Python, Jupyter, NumPy.
---
[2017] Development Internship
GeoPhy
End-to-end machine learning solution for estimating real-estate value.
Toolkit: Scala, Apache Kafka.
---
[2012 - present] Video producer, graphic designer
Wiersma Brothers, Torchbearers International, freelance
---
[2008-2010] Programmer
GoPublic
Back-end developer for websites and and business administration webapps.
Toolkit: PHP, JavaScript, HTML.
---
Volunteering
[2020 - present] Committee member
SIGGRAPH research and career development committee
Organizing conference coffee event (social event) at SIGGRAPH '21.
Media support for SIGGRAPH Thesis Fast Forward '21.
Creating and maintaining committee website.
---
[2020 - present] Reviewer
ACM Transactions on Graphics, Pacific Graphics
---
[2013 - 2019] Committee member, committee chair
C.S.R. Delft (student association)
Researched and advised on the association leadership election reform.
Organised festivities for society anniversary (> 200 participants).
Produced several narrative short films and an anniversary book.
Organized academic debates and hosted lectures (20-200 audience members).
---
[2014 - 2017] Restaurant staff manager, PR
Happietaria, Hartige Samaritaan
Pop-up restaurant for charity lasting one month. Hartige Samaritaan was set up together with Refugees.
Managed the restaurant staff for the Happietaria (November 2014).
Together with all the volunteers for Happietaria, raised €78.913.
Communications manager for Hartige Samaritaan (February 2017).