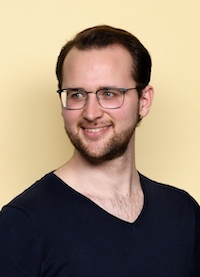 Hi, I'm Ruben! I recently started as a PhD candidate at the Computer Graphics and Visualization group at the University of Technology Delft. My interests include computer graphics, machine learning, storytelling (movies, experiences, books, etc.) and art. After graduating cum laude with a thesis on geometric deep learning, I will now work on applications of computer graphics and machine learning for painting analysis under supervision of Prof. Dr. Elmar Eisemann and Prof. Dr. Joris Dik.
I have gathered experience as a graphic designer, filmmaker and teacher during my undergraduate years. You can find some examples of that work on this website as well. Outside of academia, I enjoy making music, reading, biking, soccer and walking.
Sidebar painting: Ottmar Elliger, 'Stilleven met bloemen en vruchten' (1671), from the Rijksmuseum collection.
Contact
r.t.wiersma [at] tudelft.nl
---
Resume
An overview of my publications can be found here.
Education
[2019 - present] PhD Candidate
TU Delft
Studying applications of Computer Graphics and Machine Learning to painting analysis, generation, and rendering.
Toolkit: C++, OpenGL, Python, PyTorch
---
[2017 - 2019] MSc Computer Science Cum Laude
TU Delft
Focus on data science and computer graphics.
Thesis (grade 9/10) "Harmonic Surface Networks" [PDF download]
Toolkit: C++, Python, PyTorch
---
[2014 - 2017] BSc Computer Science Cum Laude
TU Delft
Focus on data science and multimedia.
Thesis "Automating Valuations for Real-Estate" [PDF download]
---
[2013 - 2014] Propedeuse Industrial Design Engineering Cum Laude
TU Delft
---
Work
[2019] Teaching Assistant
TU Delft
Developed assignments for new datamining and Machine Learning courses.
Assistance to students during lab sessions.
Toolkit: Python, Jupyter, NumPy
---
[2017] Development Internship
GeoPhy
End-to-end machine learning solution for estimating real-estate value.
Toolkit: Scala, Apache Kafka
---
[2012 - present] Video producer, graphic designer
Wiersma Brothers, Torchbearers International, freelance
---
Volunteering
[2018 - 2019] Program manager
The Veritas Forum Delft
Organized three public debates for audiences of 50-200 attendees.
Moderator for two events.
---
[2013 - 2019] Committee member, committee chair
C.S.R. Delft
Researched and advised on election reform that has since been adapted
Organised festivities for society anniversary
Produced, designed and launched anniversary book
---
[2014 - 2017] Restaurant staff manager, PR
Happietaria, Hartige Samaritaan
Pop-up restaurant for charity lasting one month. Hartige Samaritaan was set up together with Refugees.
Managed the restaurant staff for the Happietaria (November 2014)
Together with all the volunteers for Happietaria, raised €78.913
Communications manager for Hartige Samaritaan (February 2017)