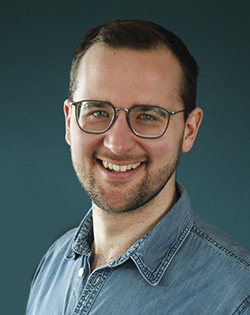 I am a fourth-year PhD student at the Computer Graphics and Visualization group at the University of Technology Delft. In my research I seek to connect computer graphics- and geometry processing techniques to applications in machine learning and painting analysis. I am advised by Dr. Klaus Hildebrandt and supervised by Prof. Dr. Elmar Eisemann and Prof. Dr. Joris Dik.
I have gathered experience as a graphic designer and filmmaker during my undergraduate years. You can find some examples of that work on this website. Outside of academia, I enjoy making music, reading and discussing books, watching movies, biking, and playing soccer.
Sidebar painting: Ottmar Elliger, 'Stilleven met bloemen en vruchten' (1671), from the Rijksmuseum collection.
Contact
r.t.wiersma [at] tudelft.nl
---
Resume
Download a PDF version of this resume. An overview of my publications can be found here.
Education
---
[2019 - present] PhD Computer Graphics
TU Delft
Connecting geometry processing and computer graphics with machine learning and creative applications.
Additional responsibilities: lecturing, lab assistance, creating assignments, supervised 10 BSc students (thesis project), 3 MSc students (thesis).
Toolkit: C++, OpenGL, Python, PyTorch, Blender.
---
[2017 - 2019] MSc Computer Science Cum Laude
TU Delft
Focus on data science and computer graphics.
Thesis (grade 9/10) "Harmonic Surface Networks" [PDF download] (Published at SIGGRAPH as a technical paper)
Toolkit: C++, Python, PyTorch.
---
[2014 - 2017] BSc Computer Science Cum Laude
TU Delft
Focus on data science and multimedia.
Thesis "Automating Valuations for Real-Estate" [PDF download]
---
[2013 - 2014] Propedeuse Industrial Design Engineering Cum Laude
TU Delft
---
Professional experience
---
[2023] Research Internship
Adobe
Investigating material and appearance capture, mentored by Valentin Deschaintre and Julien Philip.
[2019] Teaching Assistant
TU Delft
Developed assignments for new datamining and Machine Learning courses.
Assistance to students during lab sessions.
Toolkit: Python, Jupyter, NumPy.
---
[2017] Development Internship
GeoPhy
End-to-end machine learning solution for estimating real-estate value.
Toolkit: Scala, Apache Kafka.
---
[2012 - present] Video producer, graphic designer
Wiersma Brothers, Torchbearers International, freelance
---
[2008-2010] Programmer
GoPublic
Back-end developer for websites and and business administration webapps.
Toolkit: PHP, JavaScript, HTML.
---
Service
---
[Summer 2022] Summer Geometry Initiative (SGI) mentor
Mentored fellows of SGI in a project on "Learning on Surfaces"
---
[2020 - present] Committee member
SIGGRAPH research and career development committee
---
[2020 - present] Reviewer
ACM Transactions on Graphics, SIGGRAPH Asia, Pacific Graphics, TMAA, Computers & Graphics
---
[2013 - 2019] Committee member, committee chair
C.S.R. Delft (student association)
---
[2014 - 2017] Restaurant staff manager, PR
Happietaria, Hartige Samaritaan: pop-up restaurants for charity, lasting one month.
Together with all the volunteers for Happietaria, raised €78.913.
Staff and communications manager for Hartige Samaritaan (November 2014, February 2017).
---
Recognition
---
[September 2022] Best Full Paper Award - GCH 2022
Eurographics Workshop on Graphics and Cultural Heritage 2022